February's Stamp Club project was customer requested–shaving cream technique!  Oh what fun!
Here's what you need:
Cardstock
Ink refills
Squeegee
Shaving cream–the cheap stuff from the dollar store
Cuticle sticks
Something to protect your work surface–I use a self-healing cutting mat
Paper towels
Smock or apron to protect clothing and gloves to protect hands
Here's how:
Squeeze out a pile of shaving cream onto cutting mat
Add drops of ink. Here I used Pink Pirouette, Rose Red and Cherry Cobbler
Swirl around with stick, but not to much–you don't want it to get muddy
Place cardstock onto shaving cream
Pull up and scrape shaving off with squeegee
Buff any reminder shaving cream off with paper towel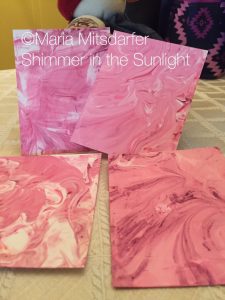 Now, your beautiful cardstock is ready to be stamped, embellished or punch out got your project.
The "you are so loved" stamp is from Watercolor Wishes Card Kit.
Happy Stamping!  Keep Shining, Maria