I remember mom always getting me and my sister involved in all kinds of creative things when we were little.  Crafts like weaving yarn on popsicle sticks, cotton loop pot holders and those coloring books where you just add water with a paint brush.  My love of crafting and creating continues today.
At age 19, I was introduced to counted cross-stitch.  I thought, "What?!  I can turn a blank piece of fabric into a beautiful work of art–for walls, pillows, even shirts!!!  And, all I had to do was make an "x" with some string and follow a pattern?!"  I was instantly in love.  I created so many wonderful finished cross-stitched pieces some of which still hang in my home today.
In my early 30's, I once again introduced to the art of rubber-stamping and card making–and from a lady from my weekly cross-stitch group!!!!  She showed me a Stampin' Up! catalog, and how she made her own Christmas cards!!! Again, I thought, "WHAT??!!!  You made your own Christmas cards???"  I had to find out more–much more!!!!  Oh, how I was instantly hooked on this new wonderful hobby!!!  And, it didn't take hours and hours and hours to see results like with cross-stitch.
I loved the art of rubber-stamping so much I became a Stampin' Up! Demonstrator.
Through Stampin' Up! I learned the importance of scrapbooking and preserving my photos.
In addition to being a Demonstrator with Stampin' Up!, I am also a Jeweler with Premier Designs.  I became a Jeweler in 2014.
Other things you might want to know about me…
I have a Bachelor's in Accounting and an MBA in Finance with a Concentration in Financial Marketing.
I work work full time at a local insurance company, and part-time for my husband's tree removal business.
My husband, Danny, is my high-school sweetheart.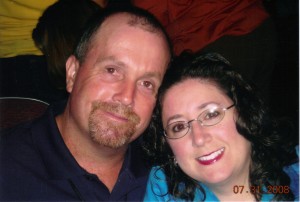 We have two fur babies–Charlie, a Basset Hound and Teddy, a German Shepherd.  Charlie loves to boss Teddy around.  Danny and I love to take them to the park and the beach!